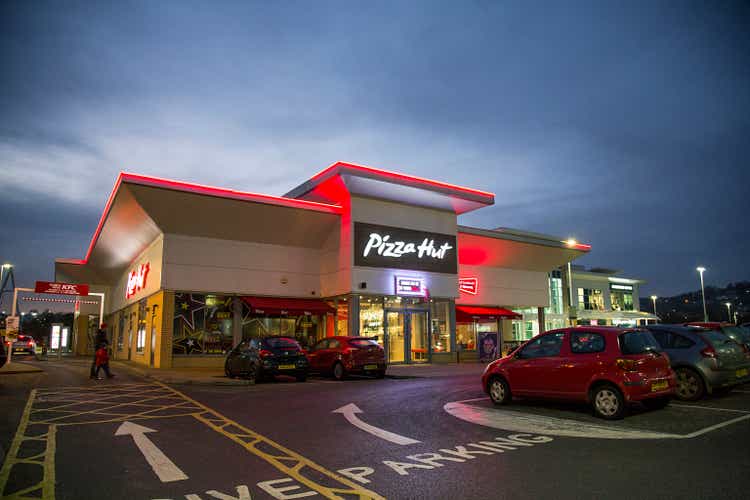 Investors have had to endure a tough year thus far, with the S&P 500 (SPY) and Nasdaq (QQQ) diving into bear market territory, and despite the terrible performance of the restaurant industry (EATZ) leading into 2022, it hasn't been spared (negative 24% year-to-date). Fortunately, investors have found sanctuary in restaurant giant Yum Brands (NYSE:YUM[4]), which is down just 8% year-to-date and massively outperforming its benchmarks. After a 16% plus pullback from its highs, Yum has become more attractively valued, but I still don't see a low-risk buy point in the stock just yet.[1][2][3]
Just over six months ago, I wrote on Yum Brands and noted[5] that although it was posting solid results, the stock was trading slightly above its historical earnings multiple, and it was extended above its 30-month moving average at $127.00. This suggested that the best course of action was to be patient for a better buy point, given that the stock would need to dip closer to $105.00 to enter a low-risk buy zone. Since then, YUM has seen a draw-down of 15%, though it's given up ground grudgingly in the face of the market turbulence. I believe this can be attributed to its solid Q1 results despite the China lockdowns, with ex-China consolidated same-store sales up 6%. Let's take a closer look below:
Q1 Results
Yum Brands ("Yum") released its Q1 results last month, reporting quarterly revenue of ~$1.55 billion, a 4% increase from the year-ago period. Looking at the results closer, system-wide sales were up 8% on the back of 6% unit growth and 3% same-store sales growth, and the company opened a record 997 units in Q1 or 628 net new units in the period. The solid performance was helped by strong unit growth for KFC (8%) and partially offset by difficulty with delivery at Pizza Hut, which is not isolated as we've seen Domino's Pizza (DPZ[6]) discuss the same issues securing enough drivers.
Following the solid unit growth, especially for a company of its size, Yum Brands exited the quarter with ~54,000 restaurants and is on track to finish the year with ~55,000 restaurants despite the impact of the Russian invasion of Ukraine. As discussed by the company, there are 1,200+ restaurants in Russia, with the majority being KFC, with the Russian business historically contributing 3% of total operating profit and 2% of total system sales. While this does put a minor dent in profit and the store base, none of the major restaurant names have been immune from this headwind, with McDonald's (MCD[7]) also taking a hit, and the impact can easily be absorbed.
Despite the noisy quarter, including China lockdowns and the impact on the Russian business, Yum Brands posted better results than I expected. This was evidenced by 6% consolidated same-store sales growth (ex-China). One highlight was Taco Bell, which enjoyed 5% US same-store sales growth despite lapping government stimulus in Q1 2021, and 12% same-store sales growth for Taco Bell International. On a system-wide basis, Taco Bell International sales were up 37%, helped by 26% unit growth.
Industry-Wide Headwinds
While the Q1 results were strong considering the circumstances, the big question mark is around Q2 and the rest of the year for many restaurant names. This is because we've seen dented consumer confidence, and the consumer appears to be in a much weaker position, contending with higher grocery costs, higher fuel prices, and in many cases, higher mortgage payments. These headwinds are all contributing to a shrinking discretionary budget, and I would expect this to have a negative effect on industry-wide traffic or at a bare minimum, some check management.
At the same time that we could see some pullback on the demand side which will affect revenues; restaurants have to pay more in training/hiring due to the tight labor market and are bumping wages to retain/attract talent. They're also contending with rapidly rising commodity inflation, impacting margins for many restaurants. Shake Shack (SHAK[8]) is a clear example, with a sharp decline in margins vs. pre-COVID-19 levels. This is not ideal for casual dining names with large rosters, more complex menus, and lower digital sales as a percentage of total sales, which could have a more difficult time offsetting these costs. From a demand side, casual dining names could also be in a more difficult position as consumers trade down to value or reduce their visit frequency.
Fortunately, Yum has several things in its favor that should shield it somewhat from these headwinds. For starters, the company is the definition of value, with many items on Taco Bell's menu below $3.00 and KFC/Pizza Hut also being value options, especially as grocery food costs soar. This value appeals to customers when their budgets are shrinking, and the company's roll-out of Quick Pick-Up with pick-up shelves also helps with convenience and reduces drive-thru times, with Yum offering a great combination of value and convenience. These are two things that are highly important to consumers and keep them coming back for more, which explains Amazon's success (AMZN[9]) steamrolling many weaker retail businesses that couldn't adapt.
Meanwhile, from a margin standpoint, the company's acquisition of Dragontail Systems is a big deal, with it being an AI-based kitchen order management and delivery technology system. Dragontail offers a QT Camera, a Driver Platform, and an algorithm that helps drive efficiencies. The QT Camera has multiple functions, which include:
ensuring that the correct quantities are used for toppings
ensuring food is at its optimal temperature
checking the quality of every pizza against specified standards
alerting stores when the cut bench (where pizza is cut and boxed) needs cleaning.
To date, the focus has been rolling this out across Pizza Hut stores (~2,000), and it could be a game-changer as it's rolled out across the rest of the system. The reason is that at a time when some franchise owners are seeing a pinch, those restaurant brands seeing less food waste and being quicker/more precise should be able to offset the cost headwinds more effectively. Meanwhile, they could also be in a slightly better position from a labor standpoint, with AI doing some of the work a team member would otherwise be required to do. Hence, while many of the larger fast-food chains should be able to claw back any margin losses if they implement more automation and AI later this decade, Yum appears to be leading the pack with McDonald's.
Finally, in a period when restaurant operators like Carrols Restaurant Group (TAST[10]) and even Shake Shack, which have a relatively low percentage of licensed restaurants, are taking a hit, Yum has a 98% franchised model. Hence, it is similar to McDonald's (~93%) and Restaurant Brands (QSR[11]) at 100%, with it not seeing the same hit from a margin standpoint. This has allowed these companies to continue growing earnings at a steady pace despite the pinch in margins industry-wide. In fact, if Yum can meet analyst estimates for FY2022 ($4.69), this will mark the 7th consecutive year of annual EPS growth despite wading through a global pandemic.
Valuation
Yum Brands' earnings chart below shows that the stock has traded at ~22x earnings over the past 20 years and ~25.4x earnings over the past decade. Using the more conservative mid-point of these multiples, this points to a fair value for the stock closer to $128.70 per share, based on 23.7x FY2023 earnings estimates ($5.43). While this points to more than 10% upside from current levels, I prefer to buy at a minimum 20% discount to fair value for large-cap dividend-payers, which would mean that Yum Brands would have to drop closer to $103.00 per share to offer enough margin to justify jumping into the stock.
Obviously, there's no guarantee that the stock heads this low, and given its solid positioning, similar to McDonald's, combined with a decent dividend yield (~2.0%), we may have already seen the lows for this correction at $108.00. However, during cyclical bear markets for the S&P 500, when things can get quite noisy and overshoot to the downside, I prefer to buy at the right price or pass entirely, which means waiting for a meaningful margin of safety to start new positions.
Looking at past cyclical bear markets (red shaded area), Yum has traded down to below 21x earnings (2011 cyclical bear market, 2015/2016 cyclical bear market) over the past decade, and this excludes the unusual COVID-19 Crash. So, while it may not occur, and this time could be different, I would not rule out a brief dip below $97.00 (20.5x FY2022 earnings estimates of $4.69), though this would certainly set up a fantastic buying opportunity for long-term investors. Let's take a look at the technical picture.
Technical Picture
Moving over to the technical picture, Yum has seen degradation in its technical picture since my last update[12], with the stock falling beneath its key moving averages (green line). However, the stock found support near $108.00, which was a positive development. Based on a current share price of $116.50 and support at $107.10, and resistance at $135.00, Yum's reward/risk ratio has improved from 0.67:1.0 to 1.97:1.0. However, during cyclical bear markets, I prefer to buy at or below support, which means leaving orders at $107.00 or lower. So, while we are closer to a low-risk buy zone, I don't see YUM being there just yet.
Summary
In one of the most difficult environments for the industry in decades (a weak consumer that's getting weaker, labor tightness, rising food/packaging costs), Yum Brands put together a solid Q1 report and remains better-positioned than its peers. This is due to its focus on technology to drive productivity and prevent food waste and the value/convenience of its suite of brands (KFC, Taco Bell, Pizza Hut). Given this attractive positioning, I see Yum Brands as a top-5 name in the sector to weather this environment, making it an attractive buy-the-dip candidate. Having said that, the stock's low-risk buy zone comes in at $103.00 – $107.00, suggesting further patience is required for a more attractive entry point.